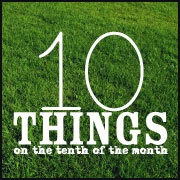 Earlier this year I splashed out to get a
Paperclipping Membership
. I jumped on a special deal so got a whole bundle of goodies together. It was well worth the money, and I just renewed my membership. Every month you get 2 new video tutorials and occasionally Noell sends members other special goodies. Plus, now I'm a non-schmo... (
PRT
inside joke there)
Every month I look forward to the new videos and I've almost watched all 170 videos in the library. Noell has a unique was of explaining things.
Today I'm sharing with you my top 10 Episodes.
I'm mostly a digital scrapbooker but I look forward to the videos and always learn something new! Noell's a great presenter with a fresh take on design principles.
Let's start with my all time favourite episode. I used this to help create Emily's words book!
As you can see I love Noell's minibooks, they inspire me to create.
Now I'm sure you want to
sign up
!
My previous 10 things posts:
Melissa
*affliliate links where possible- please use them to support my blog*